Corporate Philosophy

        We specialize in developing, designing and printing packaging products. Our customer service team will help lead your project from the starting phases through completion. You can trust on us that each of your design will be impeccably printed in exquisite style.
        Our mission is "to exceed customer expectation through continuous improvement in quality and service, and reduction in lead-time."

Management Philosophy
Participative Management
Countcheer Ltd. adopted the participative management. Part of it is to provide our employees the opportunities to involve in different management levels, in order to strengthen them in responsibility, satisfaction and achievement, and as a result improve their performance. Participative management embodies the sprite of our ideal management.
ISO9001 Quality Management System
In order to demonstrate our ability to consistently provide products that meets our customer and applicable regulatory requirements and aims to enhance customer satisfaction, we adopted the ISO9001:2000 standards.
ECO-AWARENESS
We focus on protecting the environment, by following all the rules and requirements regarding to the environmental friendliness.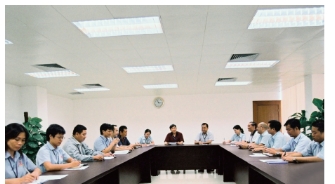 Training And Development

At Countcheer Ltd., people are the most important assets.
We believe training is the best gift to our employees as well as to our company. We provide training on weekly bases and have an excellent training program for every of our staff.